Today I wanted to make these Lemon Bars. About a week ago I was watching the Food Network and saw Paula Deen making
Lemon Bars
. Immediately I googled the recipe on the FN website and there it was! As with all the recipes I hijack, I never quite follow them to the letter, it makes the whole process much more exciting. Anyway the whole reason Paula Deen caught my eye the other day was because as I watched her on TV I could smell the lemons, lemons made me think of warm weather, which made me think of how nice the weather has been lately which then made me think I HAVE to make these in honor of the return of warm weather! Ladies and gentlemen the inner-workings of my mind. I digress, the bars were fantastic, enjoy!
Makes 12-15 Bars
The ingredient list:
- 2 cups of all purpose flour
- 1 cup of confectioner's sugar
- A pinch of salt
- 2 sticks of unsalted butter (room temperature)
- 3 large fresh lemons
- 6 tbsp. of all all purpose flour
- 2 cups of sugar
- 4 eggs
Begin by making the crust, preheat the oven to 350 degrees and lightly grease a 13 x 9 baking pan. Then combine two cups of flour, confectioner's sugar and salt together.
Cut the butter into the flour.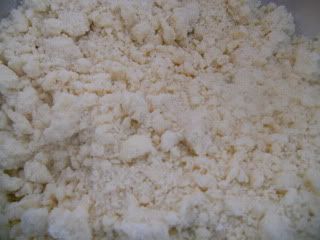 The batter will be crumbly and flaky.
Using your hand press the batter down into the greased dish evenly.
Place into the oven and bake for twenty minutes. Meanwhile prepare the filling.
Combine the sugar, eggs, flour, the zest of one lemon and the juice of 3 lemons.
I measured exactly 10 tablespoons of lemon juice.
Whisk together until smooth and creamy.
Pour filling into crust once it's ready.
Place the dish back in the oven for 25 minutes until the filling is set.
Remove from heat and let cool completely. Then cut into squares or triangles and dust with confectioner's sugar. Chill and serve cold.