No clay oven? No problem. Every time I go to an Indian restaurant I can't resist ordering something off the Tandoor section of the menu. So today, I decided, it was time to try my own! Tandoor style chicken and shrimp not made in a traditional cylindrical clay oven, but on my propane burning grill. In order to establish a non-partisan vote on the Tandoor dishes I was embarking upon cooking, I invited my mom for dinner. Anyone that knows my mom knows, when it comes to cooking and food (or anything in my life) she has a tough as nails attitude. The dishes were a success with my family and might I add, pretty simple. Here's my take on tandoori chicken & shrimp, something tells me, Tandoor cooking and I are going to be great friends. Don't be surprised if you see another form of this dish here in the near future. Enjoy!
Serves 4-6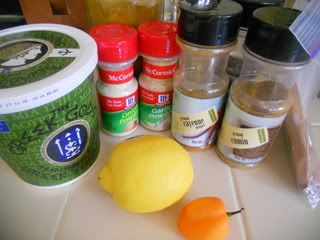 The ingredients:
- 1 whole fryer chicken cut into 8 pieces
- 1 lb. of jumbo tail-on prawns (deveined)
- 1 1/2 cup of Greek yogurt
- 1 tsp. garlic powder
- 1 tsp. onion powder
- 2 tsp. paprika
- 1 tbsp. ground cumin
- 1/2 tsp. cayenne pepper
- 2 tbsp. curry powder (mixed)
- 1/2 a scotch bonnet pepper
- 1 lemon (juiced)
- salt
- pepper
- bamboo skewers (soaked)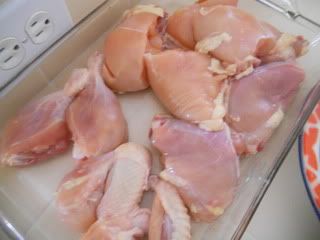 Begin by arranging your chicken pieces in a baking dish.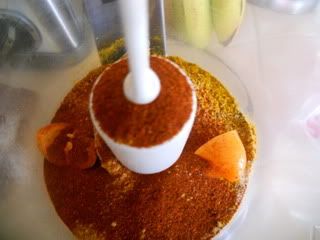 Then begin assembling the marinade for the chicken in a food processor. First add all of the dry spices and the pepper.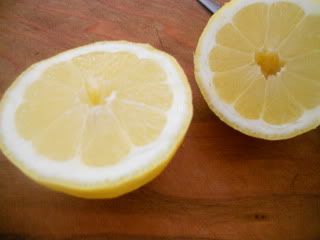 Add the lemon juice, and pulse until a thick paste forms.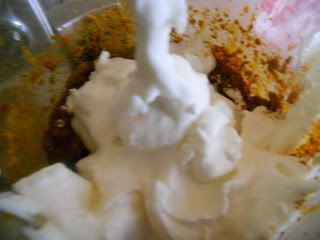 Add in the yogurt and pulse until combined, if the marinade is too thick add more yogurt. Pour the marinade over the chicken and cover with plastic wrap. Place in the refrigerator for at least 2 hours.

Repeat the steps above to make the shrimp marinade.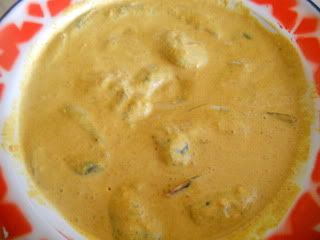 When the second batch of marinade is done, pour it over the shrimp, cover and place in the refrigerator.
Two hours later...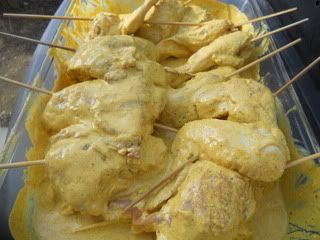 Remove the chicken from the refrigerator and begin inserting skewers through the chicken. Then skewer the shrimp, I added 3-4 shrimps per skewer.
Place the skewered chicken on a prepared grill coated with nonstick spray, on medium/low heat. Cover the grill top for 5-7 minutes, then flip the chicken over, cover and cook again.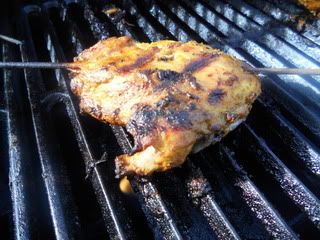 Yummy!
Remove the chicken from heat when juices run clear and place cooked chicken on a tray lined with aluminum foil.
Then place the skewered shrimp on the grill, cover and cook for three minutes.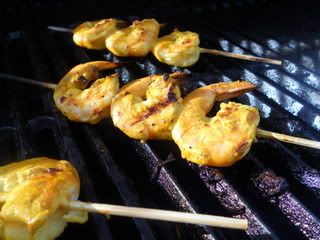 After three minutes, flip the skewers over and cook for another two minutes. Remove the shrimp skewers from heat and set aside.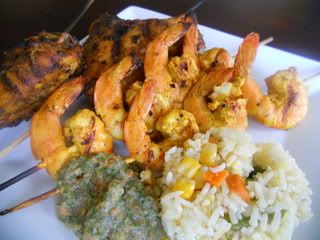 Serve tandoori chicken and shrimp with saffron rice and a spicy mint chutney, so good!