I haven't blogged in about a week and I am starting to feel really bad about it. Although I have been cooking, I put in almost 50 hours at work last week, which included two back to back evenings. Safe to say I have been pressed for time, and therefore my poor blog has suffered. A couple exciting things did happen to me during the last week, I crashed my first wedding (long story) and despite the odd rain in May, my garden has really taken off! Here's a look at the beautiful blooms I have been enjoying over the last couple of weeks.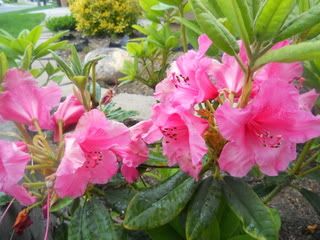 Can you guess what these are? If you think you know, please take a guess in the comment section. These sunburst hot pink beauties are bursting with color and usually bloom for about one month. They're pretty low maintenance and beautiful to behold.
I've had this popular bloom in my garden for two years now and I was astonished at how huge the leaves grew to this year. Can you see my entire hand behind this monstrosity? Many of you should be able to tell exactly what these are just by glancing at the leaf.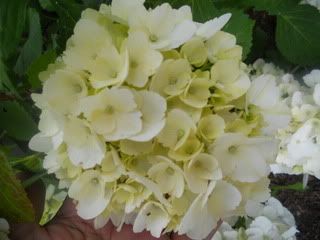 Beautiful hydrangeas! I have two white plants and one pink plant. My white hydrangeas are covered in flowers and buds that are ready to burst, however...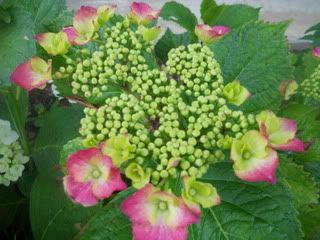 my pink hydrangeas are barely starting to open. Here's a fun fact about hydrangeas you may or may not know, you can control their color and actually change it. The pink can change to blue or blue to pink, however the white hydrangeas are constant, therefore you can not change their color.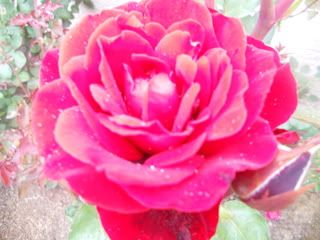 Red roses, my absolute favorite. I took this photo right after a light rain earlier today.
Clustered blushing beauties.
Clean, crisp and fragrant clustering white roses.
The small star-shaped scented jasmine.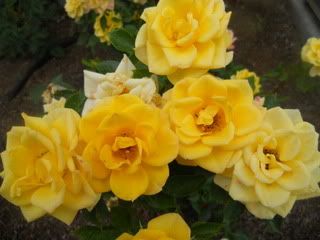 These look like regular size roses but they're actually mini-roses. I just love 'em, they're so cute!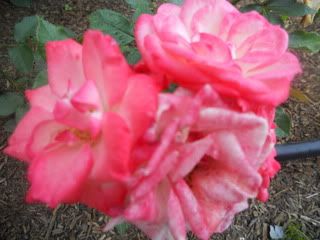 Another one of my mini-roses, in a dark shade of pink.
I've mentioned here, many times before, that I am not an avid gardener. I wish I could tell you the exact names and species of all the beautiful blooms in my garden but I can't. My philosophy is, if I like it, I want it in my garden. Then I plant it, do some research, follow directions and hope for the best.
What's blooming in your neck of the woods?