Country fried chicken, and that's exactly what it is, chicken, served with bite-sized bursting with flavor red potatoes. It seems like a lot of trouble to go to on a weeknight, and believe me it was, but the ends definitely justified the means. Please don't let the long ingredient list or lengthy prep time, (I'm giving this one a full 60 minutes suggested cook and prep time) turn you off. This dish is a must make. Juicy, tender chicken with a flavor packed punch. I whipped up a quick chicken gravy to go with the meal, (because you can't have chicken fried chicken without gravy) whose recipe I did not include because this is already a pretty lengthy post, sorry! If you must know how I did it feel free to ask, I would love to have more comments! This was the most comforting meal I've had in a long time not to mention the chicken was finger lickin' good!
Serves 6-8
Here's the long but totally worth it, ingredient list:
- 6 Boneless, skinless chicken breasts
- 3 eggs
- 1 cup all purpose flour
- 2 tbsp. fresh dill (chopped)
- 1 cup plain bread crumbs
- 1/2 cup milk
- 32 oz. package of chicken stock
- 7 red potatoes
- 2 tbsp. paprika
- 1 tbsp. onion powder
- 1 tbsp. garlic powder
- 1 tsp. cayenne peppper
- 2 tbsp. dried parsley flakes
- salt
- freshly cracked black pepper
- 1/4 cup vegetable oil
- 1/4 cup (good quality) extra virgin olive oil
Begin by splitting your potatoes into equal quarters, if your potatoes are on the larger side, split them into eighths.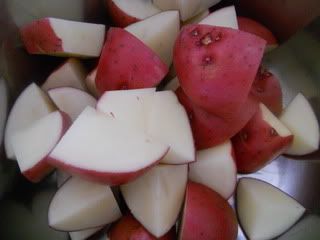 Place you potatoes in a large stockpot.
Add in the chicken stock.
You should have a pretty even potato to chicken stock ratio. Place the stockpot on medium/high heat, add a pinch of salt and pepper and let the potatoes come to a boil. On a side note, these potatoes are inspired by a version I saw Giada make on her show, Everyday Italian, on the Food Network.
While you wait for your potatoes to come to a boil, you should start on your gravy. Sorry I didn't photograph or add my recipe here, but like I said earlier, ask and you shall receive.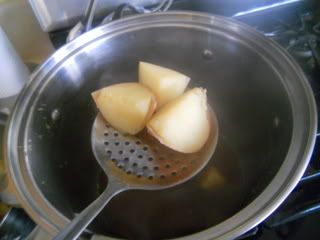 When the potaotes have cooked, turn off the stove, and using a slotted spoon scoop out the cooked potatoes and place them in a large mixing bowl.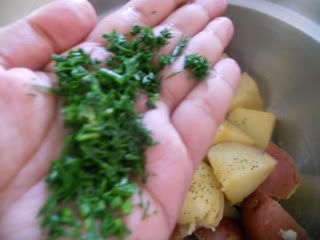 Add in the dill, salt & pepper (to taste), and olive oil, toss well and set aside until ready to serve.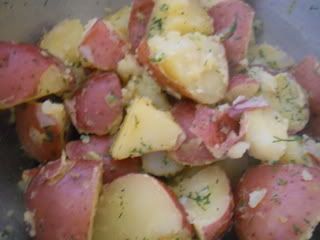 Yum. Let's move onto the chicken.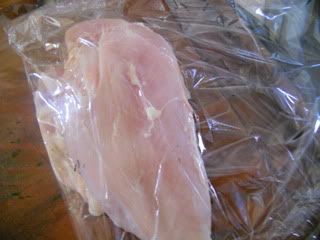 Place a chicken breast inside a large piece of plastic wrap folded in half. The chicken should be in the middle well away from the edges.
Using a meat tenderizing mallet, gently hit the chicken thinning it out evenly into a 1/2 inch thick piece. Repeat until all your chicken pieces are finished.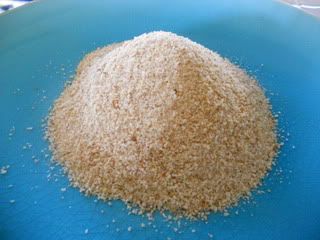 Now, you can begin assembling your bread crumb coating. Place bread crumbs on a large shallow dish or plate.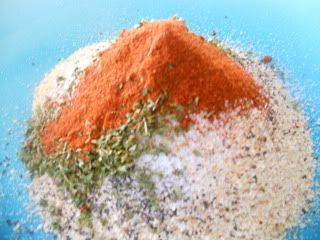 Add in salt, pepper, paprika, onion powder, dried parsley leaf and cayenne. Using a fork mix the ingredients well and set this plate aside.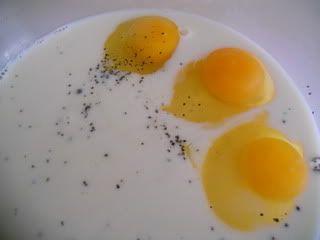 In another shallow dish, whisk together the milk, eggs and a pinch of salt and pepper (I like to lightly season both the bread crumbs and the egg wash), and in another dish add your flour. Your breading station is now complete.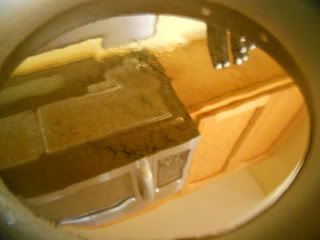 Heat the vegetable oil in a nonstick skillet on medium/low until the oil is hot.
I love the way the oil reflected images back in this photo like a pool of water!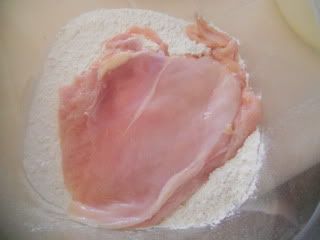 First, dredge your chicken in the flour coating both sides well.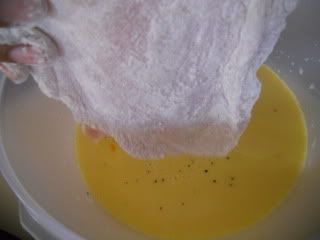 Then dip it into the egg wash, making sure to again, coat both sides.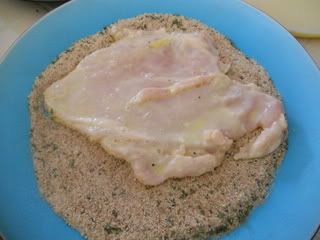 Finally coat the chicken in your bread crumb mixture on both sides.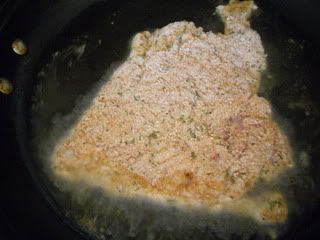 Place the chicken directly in the hot oil and cook until browned on each side (about 5-7 minutes per side) and the juices in the chicken run clear.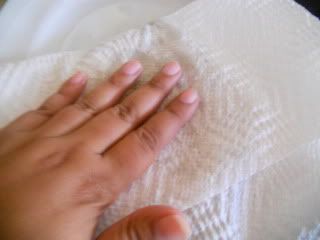 Place chicken on a tray lined with paper towels and with another paper towel pat chicken dry to remove excess oil. Repeat these steps until all the chicken is cooked and patted dry. Serve your chicken with a large helping of gravy on top and a side of potatoes. So yummy!