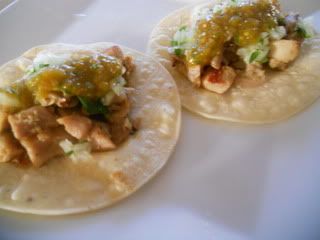 Any time I have had delicious and authentic tacos they have always been very similar to these, small tortillas, grilled meat, onion cilantro and a bit of fabulously spicy salsa to top it all off. I've only been to Mexico a couple of times, and even then I have never made it very far in, but tacos like this are served on the street everywhere and in taquerias all over the US. It was no wonder when the daunting question of what to bring to the office pot luck Cinco de Mayo party came up I jumped at the chance to make these. Chicken tacos topped with a spicy salsa verde, total prep and cook time of about 45 minutes.
Serves 15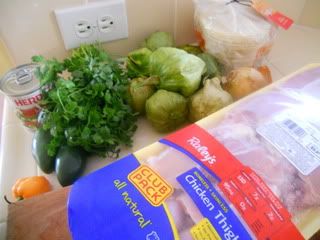 The ingredients:
- 18 Boneless, skinless chicken thighs (cubed into 1/2 inch pieces)
- 1 bunch of cilantro
- 3 large onions
- 9-11 tomatillos
- 1 can of Herdez brand salsa verde
- 3 jalapenos
- 1 bag of mini-tortillas
- 1 scotch bonnet or jabanero pepper (optional)
- 3 tbsp. canola oil
- 2 cloves garlic (minced)
- Salt & pepper to taste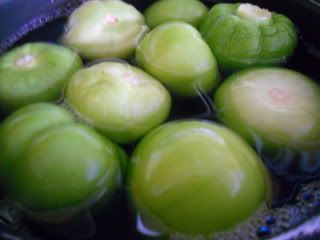 Begin by removing the husk from the tomatillos then place the tomatillos in a saucepan with water and bring them to a boil on medium/high heat.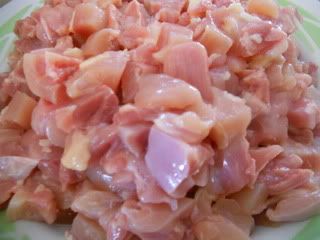 Meanwhile, cube the chicken into small 1/2 inch size cubes. Then dice 1/2 of a large onion, reserve remaining onions for later use.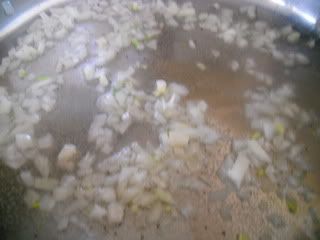 In a large saucepan heat the oil on medium high heat. Add the diced onions and cook until soft, next add in the garlic and cook for another minute stirring frequently.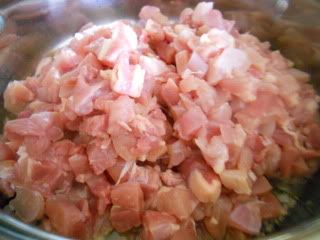 Add in the chicken and stir to combine ingredients.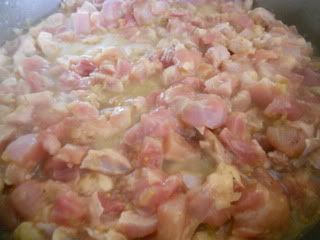 Add in Herdez salsa verde and cook on medium/high heat until chicken is cooked and lightly browned. Place cooked chicken in a bowl and set aside until needed.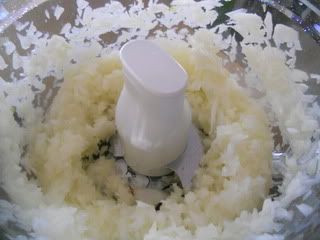 Split the remaining onions into quarters and pulse in a large food processor until finely chopped. Remove the onions from the processor and place into a bowl for later use.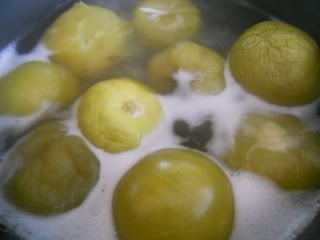 Meanwhile you should be able to begin working on your salsa. The tomatillos should be a dull olive green by now and done. Remove the saucepan from heat.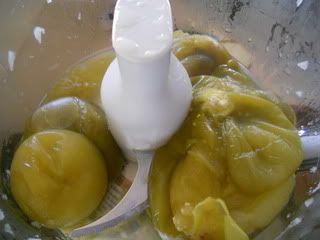 Place the tomatillos inside of the food processor along with a 1/2 cup of roughly chopped cilantro and the jalapenos.
Pulse until broken down.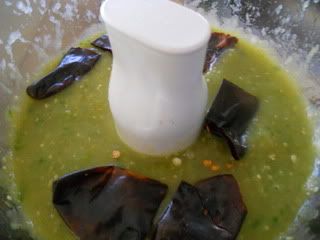 Give your salsa a taste to check the heat level. Then add in 2/3 cup of the chopped onion, salt, pepper and two dried Guajillo chili pods (they add a smokiness and another dimension of flavor). Pulse until combined. Taste your salsa again for salt and heat, if desired (and you can take it), add in the jabanero pepper and pulse again.
Ta-Dah! Place the salsa into a bowl and in the refrigerator to cool. Meanwhile take the remaining chopped onions and add a 1/4 cup of finely diced cilantro to them, add a squeeze of lime if desired. Toss the onion mixture and reserve for topping the tacos.
Finally, heat the tortillas on a grill (or in a pan). To assemble the tacos add a tsp. of meat and add a little bit of the onion/cilantro mixture, then top with a delicious dollop of fresh salsa verde. Enjoy!