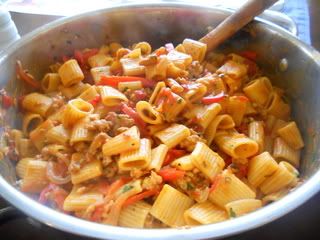 Sausage and peppers, a classic Italian staple, and one of my favorite dishes. Many of you who live in and around the Sacramento area might have heard of or even been to
Paesanos Italian Restaurant
, at the least you have probably driven by it. Paesanos has a special place in my heart since Jim and I had our first official date in one, and that said, from time to time we like to go into one to reminisce. My inspiration for this dish came from their menu item "New School Sausage & Peppers". I've ordered that dish a time or two before and I just love it, I have to admit I have no idea what they put in theirs besides what I can taste. Luckily the last time I had the dish I really let my taste buds do the work and they gave me a good flavor and ingredient base for my own version, the results were delicious! The perfect rustic meal for a doomy, gloomy day, like today.
Serves 6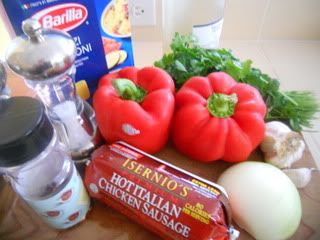 A look at some of the ingredients.
- 1 lb. Hot Italian Chicken Sausage
- 1 package Mezzi Rigatoni (cooked & drained)
- 2 large red bell peppers (sliced)
- 1/2 large onion (sliced)
- 1/2 cup Italian Parsely (chopped)
- 4 large garlic cloves (chopped)
- 3 tbsp. Extra Virgin Olive Oil
- 8 oz. can of Tomato Sauce
- 14 oz. can of Italian Style Stewed Tomatoes
- 1 pinch of sugar
- 1 tbsp. Red pepper flakes
- 1/2 cup white wine
- Salt & Pepper (to taste)
- Freshly grated Parmesan Cheese (for topping)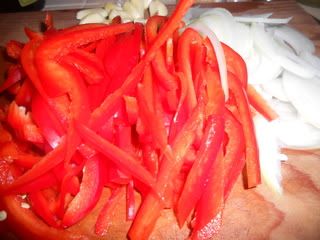 Start by prepping the water for the pasta. While you wait for the water to boil, start slicing the onions and peppers.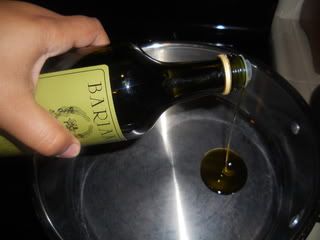 Meanwhile in a large pan heat the olive oil on medium/high heat.
I love this olive oil, it's so yummy!
When the oil is hot add in the onions, red pepper flakes and a sprinkle of salt & pepper. Cook until onions are soft.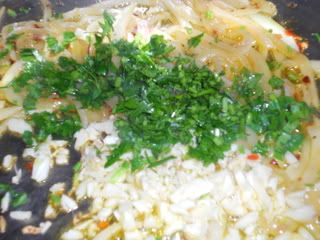 Add in the garlic and almost all of the chopped parsley. Stir ingredients together and cook for another 2-3 minutes.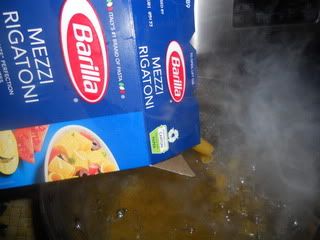 Meanwhile if the pasta water is ready, add in the pasta and cook until al dente. Drain and set aside the pasta for later use.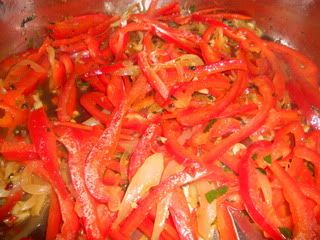 Add in the peppers, stir the ingredients and cook until the peppers barely begin to wilt.
Add in the chicken sausage and using a wooden spoon break it up into small, but chunky, pieces.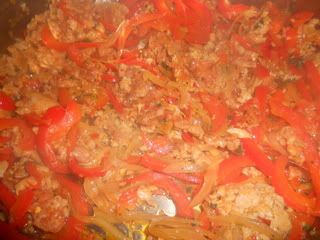 Yummy! Cook for five minutes stirring as often as needed.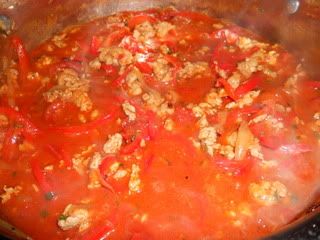 Add in the stewed tomatoes, tomato sauce and wine. Bring the sauce to a boil then turn heat to medium/low and cook for about 10-15 minutes. You want the wine to burn off a bit, why wine? Because that's they way Clemenza did it, and you don't mess with Clemenza.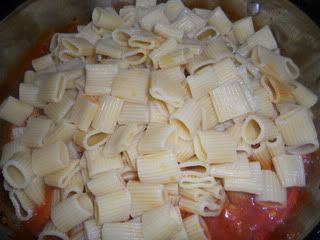 Taste the sauce, add salt and pepper as needed. Then add in the cooked pasta and toss well with sauce and ingredients.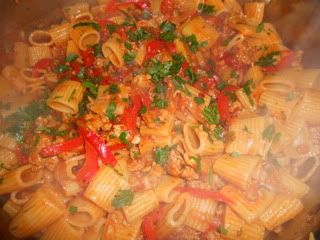 Top with the remaining parsley. The sauce should be thick and should cling to all the ridges or "rigas" of the rigatoni. Remove from heat and serve, top with freshly grated Parmesan cheese if desired.