Eggplant, beautiful, purple, complex and flavorful. That is exactly what I thought when I spied the purple beauties as I perused the produce section of my local grocery store. Usually the selection local markets carry, leave something to be desired, but today, it was different. I quickly bagged up my treasures and headed home to recreate a dish I love, spicy eggplant with tofu. I describe my dish as sweet because that's exactly what the eggplant was, it was perfect. This meal takes about 45 minutes to prep and cook, due to the amount of time it takes for the eggplant to breakdown. But if you want to speed it up cut your eggplant into smaller pieces, easy peasy, lemon squeezy. Enjoy!
Serves 4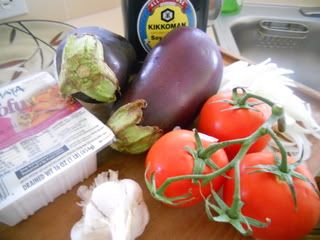 Didn't I tell you they were gorgeous? just look at them! I have never loved eggplant as I did that day.
- 1 large eggplant (sliced into 1 inch pieces)
- 1 package extra firm tofu (cut into 1 inch pieces)
- 2 tomatoes (cut into eighths)
- 1/2 a large onion (sliced)
- 4 cloves of garlic (crushed)
- 1/2 tsp. fresh ginger (minced)
- 1/4 cup soy sauce
- 1 tbsp. garlic chili paste
- 1 tsp. Hoisin sauce
- 1 cup & 2 tbsp. of vegetable oil (divided)
- Fresh Scallions (for garnish)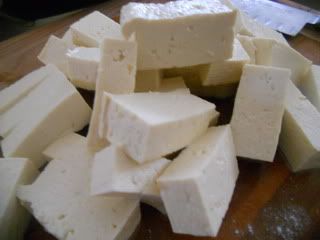 Begin by placing 1 cup of vegetable oil in a large frying pan or wok and heat the oil on medium/high heat. While the oil warms up start slicing your tofu into 1 inch squares, or if your like me 1 1/2 inch rectangles.
Gently add your tofu to the heated oil and fry until they turn golden brown. Remove tofu and place on a dish lined with paper towels to help drain excess oil. Set tofu aside until needed.
While your tofu fries begin prepping the remaining ingredients...
Slice the onions and prepare the garlic and ginger.
Then cut your tomatoes into eighths.
Next slice up the eggplant, you can choose whether or not you want to peel the eggplant. I like little slivers of purple in my food, I think they make this dish pretty so I only half peeled the eggplant. Place the cut eggplant in a bowl filled with water to keep the eggplant from browning.
I should have taken a photo here but I didn't so here's what I did next. Heat the remaining oil in a wok, then add the onions, garlic & ginger and cook until onions are soft. next, add the hoisin, hot garlic paste, soy sauce and tomatoes. Stir the ingredients together and let the tomatoes cook down for about five minutes. Then...
Add in the eggplant and stir all ingredients together to combine.
Ta-Dah! Cook on medium/low heat for 10-15 minutes until eggplant has broken down. Hint: To help this process along you can cover the pan.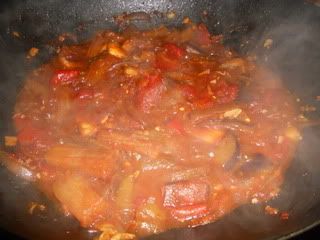 Like so.
Add in the browned tofu and combine all ingredients together well. Cook for another 3-5 minutes to let the tofu soak up all the flavors. Add in sliced scallions for garnish and flavor if desired. Remove from heat and serve over white rice.