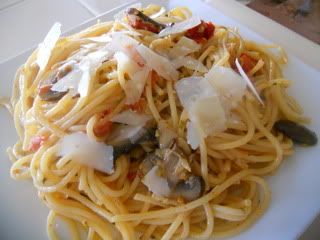 Twenty minutes start to finish, the easiest (and tastiest) pasta dish to prepare on a weeknight when you have zero time to spare. The quality of the ingredients really play an important role in the freshness (and taste) of this dish, the fresher the better. I used a good quality California made olive oil, fresh from market cherry tomatoes and mushrooms. Lots of flavor, not a lot of time.
Serves 4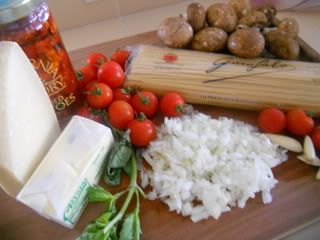 The key players are:
- 1 package of spaghetti (cooked & drained)
- 1 stick of unsalted butter
- 3 to 4 basil leaves (chopped)
- 1/4 cup of Italian parsley (chopped)
- 1/4 cup of Extra Virgin Olive Oil
- 6 baby bella mushrooms (sliced)
- 1/2 a large onion (diced)
- 2 garlic cloves (minced)
- 1 1/2 cups of cherry tomatoes (about 17)
- 4 Sundried tomatoes (sliced)
Here's a look at the local olive oil I picked up last Sunday from the under the freeway Farmer's Market. Very tasty and I just loved that the old couple working the booth were Italian! The wife was so sweet, I just couldn't resist picking up their balsamic vinegar too, yum!
Heat the olive oil and butter in a pan on medium/high heat. A secret I heard on the food network years ago, anytime you're using butter add a bit of olive oil to the mix, it'll help keep the butter from burning while adding another dimension of flavor at the same time.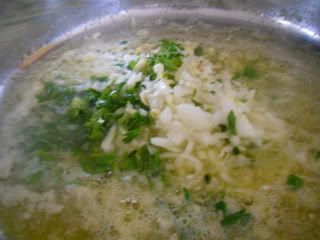 Add in the onion, basil, garlic and parsley, cook the ingredients for two minutes.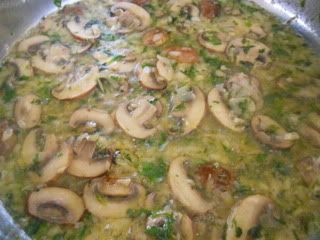 Add in the mushrooms, stir and continue to cook.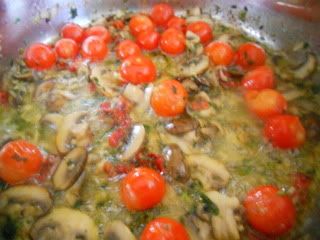 Once the mushrooms have softened add in the cherry and sundried tomatoes. Cook until the tomatoes blister, about 10 minutes.
Using the back of a large spoon, crush some of the cherry tomatoes creating a tomato butter sauce (yum!).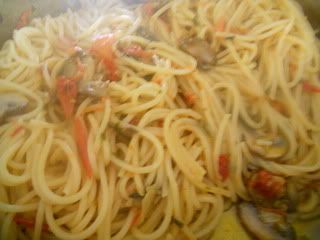 Add in the cooked spaghetti and toss well. Remove pasta from heat, top with freshly shaved Parmesan cheese and serve. Quick, easy and yummy!