Fully loaded, bacon and egg chilaquiles, this is my take on the classic and perfect breakfast dish. A little tip? Make sure you are very hungry, like you skipped dinner last night and woke up starving, hungry. These chilaquiles are sure to fill you up! Jim and I have a busy day of yard work ahead of us, so this morning I definitely knew we needed something with substance. This dish took about 40 minutes to prep and cook, multitasking definitely helps cut down on the cook time. I gave the dish my own unique spin by adding in turkey bacon and making the salsa fresh, enjoy, happy Sunday!
Serves 3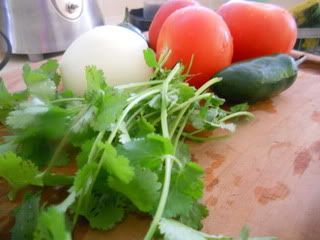 Begin by making your salsa, you will need 1/2 a large onion, 3 tomatoes, cilantro and 2 jalapenos. The other key ingredients for this dish include:
- 10 to 12 corn tortillas
- 3 tbsp. vegetable oil
- 1/4 tsp. cumin
- 1 chile canned in adobo sauce
- 1/4 tsp. adobo sauce
- 1/4 tsp. ground cayenne pepper
- salt & pepper (to taste)
- 4 eggs
- 4-5 strips of turkey bacon
- 1 hass avocado (sliced, for topping)
- 1/2 cup of shredded cheddar cheese (for topping)
Coarsely chop the cilantro, tomato, onion and jalapeno. Place the ingredients into a blender with salt & pepper (to taste), cumin, chile, adobo sauce and cayenne pepper. Blend until combined and set aside.
Tip: Give the salsa a taste to make sure you are happy with flavors.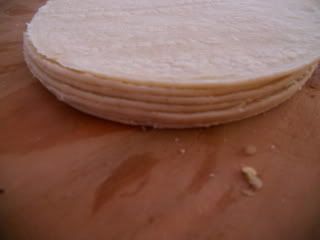 Meanwhile place the tortillas on a cutting board and cut into 1-2 inch cubes and triangles.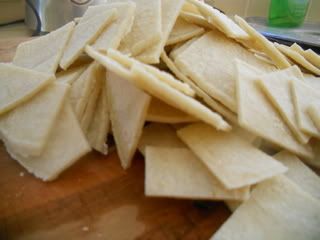 Ta-Dah! In a nonstick skillet, heat the vegetable oil on medium/high heat.
Fry the tortilla's in batches (it took me three) until just barely brown.
Place the fried tortillas on a dish lined with a paper towel to drain excess oil.
Pour the salsa into a nonstick pan and cook on medium heat until warm, stirring as needed.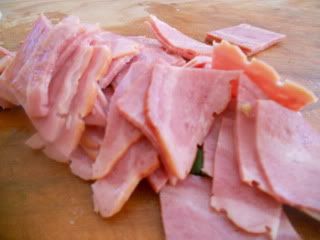 Meanwhile slice the bacon strips into 1- 2 inch pieces.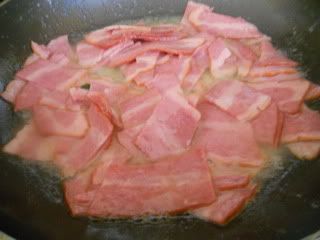 Fry the bacon and set aside for later use.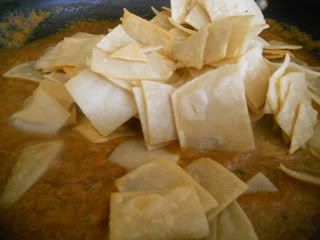 Once the salsa has warmed up add in the tortilla pieces and stir, making sure to coat all the pieces in salsa. You will cook the tortillas in the salsa until they are soft.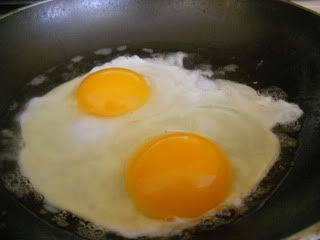 Meanwhile, fry eggs to order. You will top each helping of chilaquiles with made to order eggs.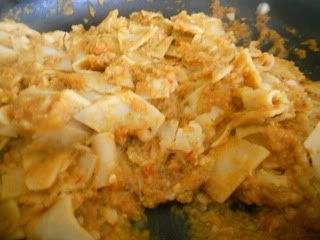 Ta-dah! Once the tortillas have softened your chilaquiles are done, remove from heat and plate a serving.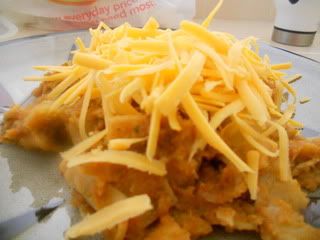 Top each serving with cheddar cheese, then sprinkle on a few pieces of bacon.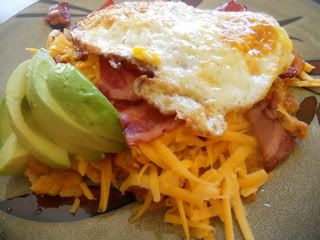 Add on the eggs and a few slices of avocado, serve and enjoy!