This stir fry is super simple, super fast and super delicious! I do have to warn you, I like my food spicy, so if you don't like the heat please adjust the seasonings to your liking. Tofu is one of those great ingredients that is just so versatile, I love cooking with it. You can do just about anything you want to it and it will still be delicious. This meal takes a total of about 30 minutes to prep and cook, remember to multi-task and to taste the dish along the way. A great vegetarian dish for any day of the week, enjoy!
Serves 4
You will need the following ingredients:
- 1 package of extra firm tofu
- 1 red bell pepper (sliced)
- 1 large onion (sliced)
- 2 1/2 cups of baby bok choy (chopped)
- 1 cup of broccoli florets
- 4 to 6 baby bella mushrooms (sliced)
- 4 cloves of garlic (minced)
- 3 tbsp. soy sauce
- 1 tsp. hot chili oil
- 1 tbsp. hoisin sauce
- 1 tsp. hot garlic chili sauce
- freshly ground black pepper (sprinkle)
- 4 tbsp. vegetable oil.
- 3 cups rice (cooked)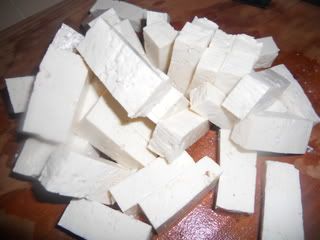 Begin by slicing your tofu into 1 inch long strips. Then add 3 tablespoons of vegetable oil into a wok and heat on medium/high.
Once the oil is hot add in the tofu and fry for 5-8 minutes until it browns, make sure to use a flat spatula or wooden spoon to turn the tofu for even browning.
While the tofu browns, slice your onions, mushrooms, bok choy and other veggies.
Once the tofu has browned, use a slotted spoon to remove it from heat and place on a plate lined with paper towels to drain oil. Set the tofu aside for later use.
In a clean wok, add the remaining oil and heat on medium/high, add in the onions and cook until they begin to carmelize.
Add in the garlic and cook for another minute, stirring often. Then add in the mushrooms and pepper and cook until soft.
Add in the broccoli and stir ingredients together.
Finally, add in the bok choy, stir to combine and cook until the bok choy has wilted and reduced down in size.
I always stock my pantry and fridge with these sauces, they are so versatile and yummy!
Add in the soy sauce, hoisin sauce and garlic chili sauce, stir all ingredients together.
Finally add in the cooked tofu and stir to coat in sauce. Once combined, remove from heat, serve over white rice and enjoy!