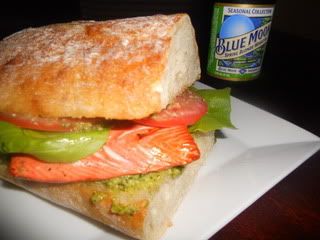 Well I did it again, I broke my no sandwiches for dinner rule. To be fair I did have to grill the salmon for this recipe, make the pesto (from scratch), toast the bread, and prep all the sandwich toppings. So technically I did cook, and technically the "no sammies for dinner" rule is my own, and I can make exceptions as I see fit. After all aren't rules meant to be broken?
Anyway these sandwiches were so fresh and toasty, the perfect sandwich to enjoy in the late evening sun. Total prep time About 30 minutes all together, fantastic!
Serves 4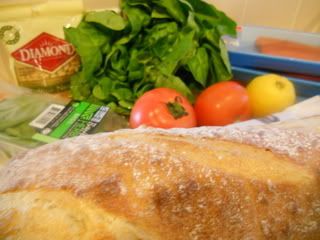 The star ingredients are as follows:
- 4 large cloves of garlic (minced)
- 1/4 cup ground Parmesan cheese
- Pre-made Garlic Olive Bread (one loaf)
- 2. 25 oz. of pine nuts
- 1/4 cup of Extra Virgin Olive Oil
- Fresh Salmon Fillet (cut into four 6 oz. pieces)
- 1 cup fresh basil
- 1 large, ripe lemon
- butter (for toasting bread)
- salt & pepper (to taste)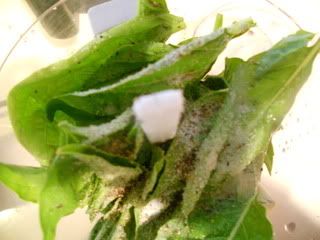 Place the pine nuts, a pinch of salt & pepper and the basil into a food processor and pulse until combined.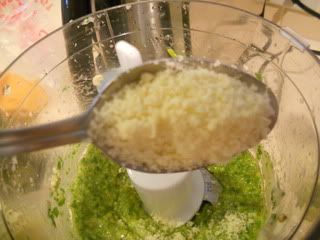 Add in the Parmesan cheese and the olive oil. Pulse to combine and set pesto aside for use later, you will have prepared pesto left over, you can freeze it and use it another day.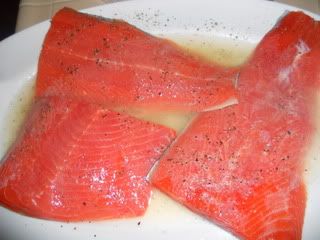 Season the salmon with freshly ground black pepper, salt and the juice of one lemon.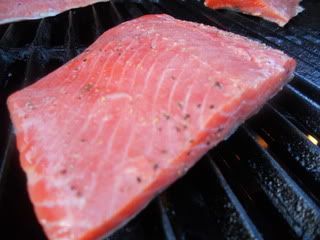 Place the salmon on a hot prepared grill. The grill should be prepared by adding nonstick grilling spray generously, this will prevent your fish from sticking to the grill.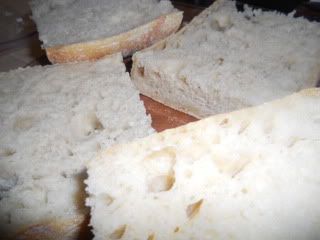 While the salmon cooks cut your loaf in half then slice into sandwich size pieces.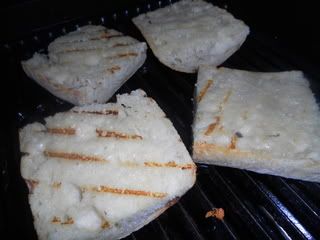 Brush the bread lightly with butter then place on the grill to toast. I just love grill marks! Remove the bread once it has lightly toasted.
Remove the salmon from the grill when it is done, and cut into 6 oz. pieces. If you have another lemon handy you can squeeze a bit of juice on the cooked salmon as well. Begin assembling your sandwiches by slathering a good schmear of pesto sauce to the bread, then add the salmon and top with whatever fresh toppings you like. I used simple butter lettuce and tomato, delish!