As promised, here is Jim's special (and might I add easy) birthday dinner. When he announced to me that we would be "staying in" for his birthday, I decided I needed to take a trip to the grocery store. Jim loves shrimp, it's his absolute favorite seafood, I knew I had none and went off to see what I could find. I picked up a pound of beautifully fresh jumbo shrimp. The bonus? It was on sale!! I also picked up some asparagus, which is in season, and some sweet grape tomatoes. The meal was coming together in my mind. This dish takes about 30 minutes to prep and cook, super quick, super easy, super yummy!
Serves 4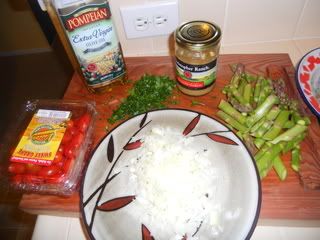 Here's a look at some of the key ingredients you need for this dish.
- 1 lb. of de-veined jumbo shrimp
- 1 1/2 sticks of unsalted butter
- 10 oz. sweet grape tomatores
- 1 cup of asparagus (cut into 1 inch pieces)
- 1/2 tsp. of olive oil
- 1 1/2 tbsp. of minced garlic
- 1/4 cup of Italian parsley (finely chopped)
- 1/2 of a large yellow onion (diced)
- Salt & Pepper (to taste)
- Freshly grated Parmesan cheese (for topping)
- 1 package of spaghetti (cooked per package ingredients)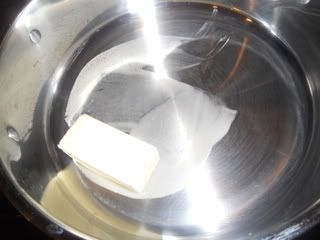 Begin by cooking the spaghetti per package instructions, and toss with olive oil and freshly cracked pepper. Meanwhile, melt 1 stick of butter in a pot over medium heat.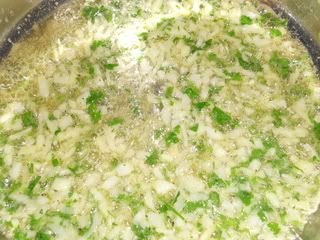 Add in the onions, parsley, a pinch of salt and pepper. Cook until onions are soft.
Add in garlic and cook for another 2 minutes, stirring to prevent any sticking.
Add in the tomatoes, cover and cook for five minutes.
Add in the asparagus, stir together and cook for another five minutes.
Using the back of a spoon crush 7-9 tomatoes in the pot to release the juice.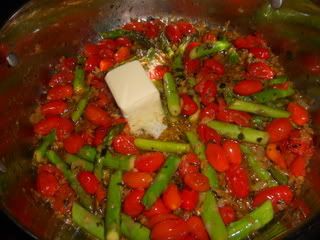 Add in the remaining butter and melt.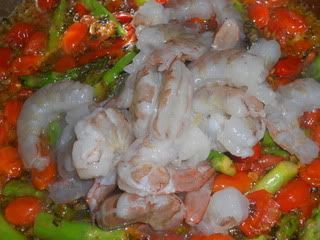 Add in the shrimp, and stir together well with other ingredients, coating the shrimp in the delicious buttery tomato sauce.
Cook until shrimp are done. Remove from heat.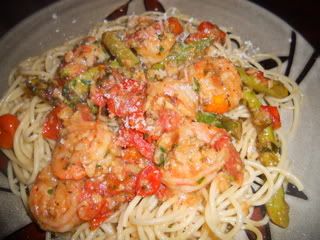 Serve the shrimp over spaghetti and sprinkle with freshly grated Parmesan cheese. Enjoy!