Yes, FINALLY I am back online...Anyone Can Cook is back and better (than ever). Do you like the new look? Please take a moment and let me know what you think, up in the left hand corner there is a little box with a little poll, dying for you to show it some love. You will never know how I filled my time while I was off line...but I'll give you a few hints. Hint #1 I made beautiful, moist, delicious carrot cupcakes (pictured above) and turkey rigatoni, Spicy tofu with peppers stir fry, Chicken Gumbo, and okay I'll stop now, no one likes a tease. What else have I been up to?
I watched alot of DIY network, went down to Home Depot, bought some lumber, got out my handy dandy drill and put these cute fence boxes together, yes I said boxes I made not one but two of them! Then I installed them (on my fence) and planted seeds so that I could start my own herb garden...Okay so maybe when I say I, I really mean Jim.
But I did do all the planting and I have been anxiously waiting to catch a glimpse of the budding herbs.
Someone once said, "patience is a virtue", yes it is. Unfortunately, it is a virtue that I do not have. Every day when I get home from work, I check on my fence boxes, water them, then I cry out, "gardening is not for me, this sucks!". I hope I don't give my herbs a complex, germinating seeds don't have ears right?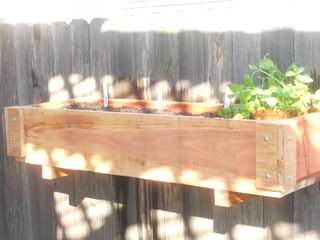 Ta-Dah! I had to cheat, I went to three different local hardware stores and could not find mint seeds, so I bought a small mint plant ( one out of eight isn't so bad). To be fair I haven't picked any mint yet, I think I should wait, that way the other seeds don't feel left out. On the plus side, I picked up that beauty for less that $3, and it was in a pot that I could plant right into my fence box. Apparently it will decompose all on its on, naturally. Imagine my shock that someone invented these and didn't tell me, avid Gardner that I am.
Now for the bad news.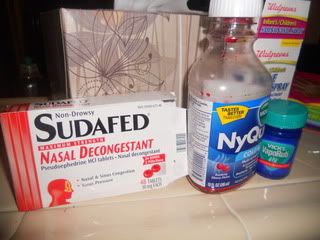 I caught a cold. But this was not your run of the mill, happens to everybody, cold. This was the motherload. I have (yes have, I'm much better today, but not quite at 100%) had this cold for over 9 days! When, after much defeat, I decided to go to the doctor, two things happened.
1. They told me they couldn't get me an appointment but that a Doctor could call me and do my consultation over the phone! Do not get this confused with speaking to an Advice Nurse, they offered me that too, but why take the Nurse when you can get the Doctor? Again...why doesn't anyone tell me these things!

2. The doctor confirmed that I had a cold. Then she went on to say, "...and you have an upper respiratory infection, which happens sometimes, when you get a cold". What is it caused by? She actually said stress, stress? Me? Never heard of it. Basically this upper respiratory infection caused me to sit in my house with all the blinds closed and the lights out, for fear that my head would explode because a tiny person had taken residence up there and was living out his life long dream to bang on the drums like Ringo Starr. I was congested, I had a sore throat, I had ghost fevers. You know ghost fevers? The kind that show up then go away, and just when you think its safe, they come back?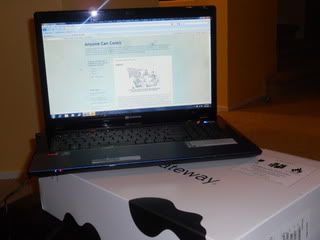 Then of course, the root of it all, I've been shopping for a lap top and decided on this new sleek Gateway...(insert Oo's and Aah's here)

Everything happens for a reason, maybe my lap top died because it knew I was getting sick, and that I needed a break. Maybe I just got my new one in today because it knew that I was feeling better. Maybe I got sick because the universe knew I couldn't blog, therefore, why cook? I should lay in bed and be miserable...maybe...
I digress. I promise to serve up one hell of a weekend and I promise that I haven't gone crazy. It's good to be back!