I have to preface this post by saying, I'm sorry, there is a key ingredient in this dish that may be hard for some of you to find. It is the semi-homemade portion of my dish, Nob Hill Co. distributed Sacratomato Soup, available (where I am) in Raleys, Bel-Air and Nob Hill stores. If you are unable to find it, substitute this ingredient with a high quality tomato bisque. Disclaimer finished.
I've been living in Northern California for eight years now, and much to my surprise, only very recently did my lips touch the silky, creamy, deliciousness of this tomato bisque soup. I bought the soup on a whim after a colleague at work raved about it one day. As soon as I had that first spoonful, two words came to my mind, Butter chicken. I knew then, that this was a dish that I had to make. For those of you who have never tried this dish, butter chicken is a classic served at most Indian Restaurants across the world. Besides the two obvious ingredients, butter and chicken, the other common ingredients include tomato puree, cream and traditional Indian spices. The best part about a "semi-homemade" dish? It's quick and easy, if you have thirty minutes, you can make authentic Indian Butter Chicken.
Serves 4-6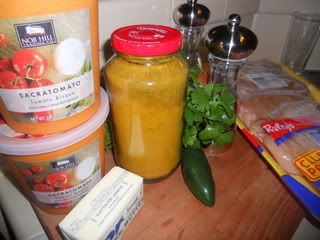 Here's a look at the key ingredients used in this dish.
- 4 boneless, skinless chicken breasts (cubed in 1 inch pieces)
- 36 oz. of Nob Hill (or other high quality) Sacratomato Soup (tomato bisque)
- 1/2 a large onion, sliced
- fenugreek seeds (1/4 teaspoon)
- cumin seeds (1/4 teaspoon)
- 4-6 mustard seeds
- 1/2 a teaspoon mixed curry powder
- 1/2 a teaspoon cayenne pepper
- 1 stick of unsalted butter
- 1 teaspoon of minced garlic
- 1 large jalapeno (diced)
- 1/4 cup cilantro (chopped)
- Salt & pepper to taste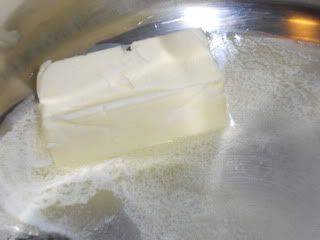 Melt the butter in an 11 inch skillet on medium/high heat.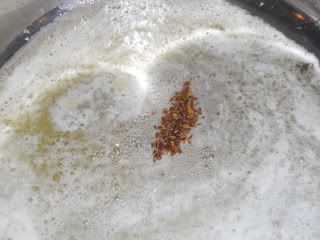 Add in the fenugreek, cumin and mustard seeds, stir and toast for one minute.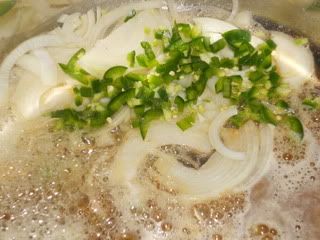 Add in the jalapeno and onions, cook until soft and translucent.
Add in the garlic, mixed curry powder and cayenne pepper. To learn how to mix curry powder check out my
Chicken Curry recipe.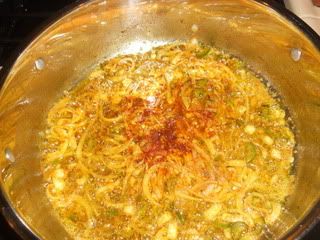 Stir the ingredients together and cook for one minute.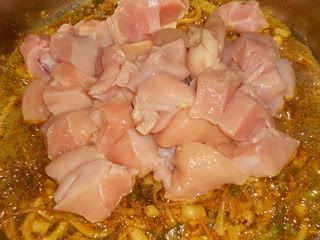 Add in the chicken, stir to coat, cover and cook for ten minutes.
Uncover and cook for another five minutes.
Add in the Sacratomato soup, stir and bring to a boil.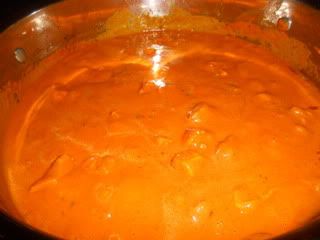 Turn heat to medium/low and cook for an additional ten minutes.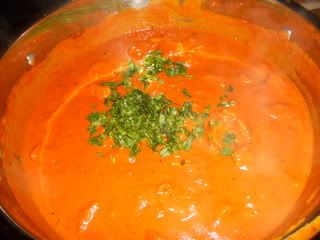 Give the sauce a taste, add salt and pepper as needed. Add in cilantro, remove from heat and serve over white rice. Yum!