If you can't take the heat, get out the kitchen, because this dish is H-O-T! Kung Pao chicken has, for as long as I can remember, been my favorite Chinese dish, something about the heat, sweet hints and crunchy peanuts makes it a regular dish ordered at any well respected Chinese restaurant. My version brings in a little extra heat with sweet undertones and a yummy crunch from both fresh zucchini and peanuts. I love this dish!
PS- No MSG! How great is that? :)
Serves 4
Cut five boneless, skinless chicken breasts into 1 inch cubes.
Place cubed chicken in a mixing bowl.
Add in 1/2 a cup of soy sauce (low sodium, if you like).
Add one tablespoon of freshly ground black pepper and a 1/4 cup of rice wine vinegar.
Mix all ingredients well and set aside to let marinade for at least 15 - 30 minutes.
Meanwhile cut off a 1 inch cube of fresh ginger from the root.
And using a hand grater, grate it down.
You will need one tablespoon of finely minced ginger and two tablespoons of finely minced garlic.
You will need about 1/4 cup of (a good handful) Japanese dried peppers.
Split 3/4 of the chili's in half lengthwise and set aside, reserve the remaining chili's for later.
Meanwhile add in 3 tablespoons of peanut oil, to a wok and heat on medium/high.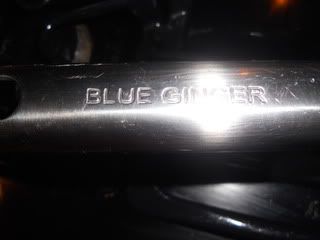 A good wok can last you a lifetime, I have been pleasantly surprised by the longevity of my Blue Ginger wok. Purchased from Target for under $100, this wok has been in my life for at least 9 years, it's my rock-wok.
Add in the minced ginger, garlic and sliced red peppers when the oil is hot.
Stir and cook for at least 2 -3 minutes, frequently stirring.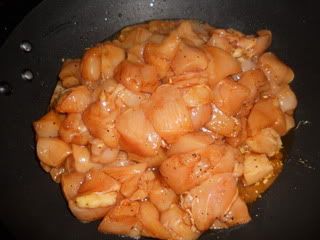 Add in the reserved chicken and stir all ingredients well to combine.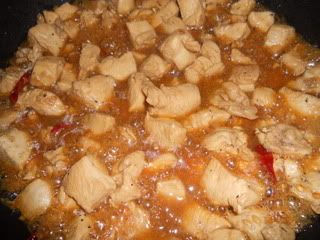 Turn heat to high and let marinade reduce and evaporate.
Meanwhile cut two small zucchini's in half lengthwise, and then half (in lengthwise) again. Slice zucchini into small 1/2 inch pieces.
Your marinade, after it reduces & evaporates, should look something like this.
Add in 1/4 cup of chicken stock, one tablespoon of flour, two tablespoons of Hoisin sauce, and stir. This will create and thicken your sauce.
Add in two tablespoons of Hot Chili Oil, making sure to add in an additional 1/2 teaspoon of the actual flakes from the jar.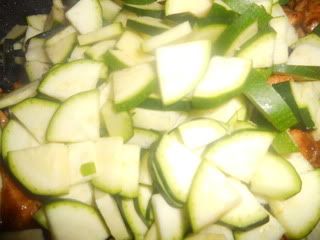 Add in the zucchini and mix well.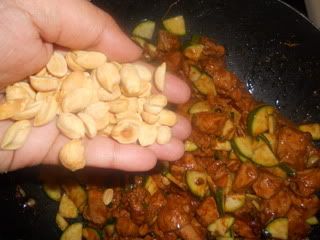 Next, add in a handful of unsalted, roasted peanuts (about a 1/2 cup) and guess what, stir again. Let cook for 1 minute.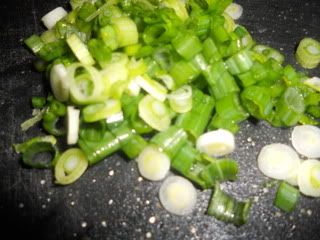 Meanwhile, slice 1/2 a cup of green onions.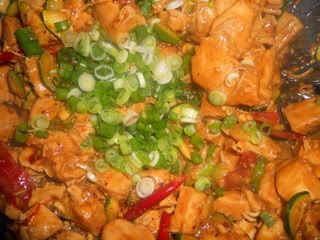 Add to the pot and mix to combine.
Slice the remaining Japanese peppers in half lengthwise, add to pot and stir all ingredients to combine.
Remove from heat and serve with white rice and a tall drink of water. Enjoy!